Hurro.
Well as it's been a while since I last posted (147 days in fact, which seems an obscenely high and vaguely frightening number), I think it's about bloomin time I kicked this mother into gear.
What news. Well, I have moved house. I've bought and lost and bought a pair of glasses. I've had very lovely times visiting family and festivals, doing poetry gigs, music gigs, sitting down, reading, feeling a bit tired, eating, working, walking, watching Rick and Morty, thinking, talking, being quiet, having emotions, and other, less glamorous things.
One of my main concerns has been the writing of my show Return of the Wizword, a process that's been both scary-fun and just plain terrifying. It will be an hour of comedy-poetry-adventure, which I'm sure you'll love as you have impeccable taste. Either way, it's happening and that's that.
Below is a teaser poster.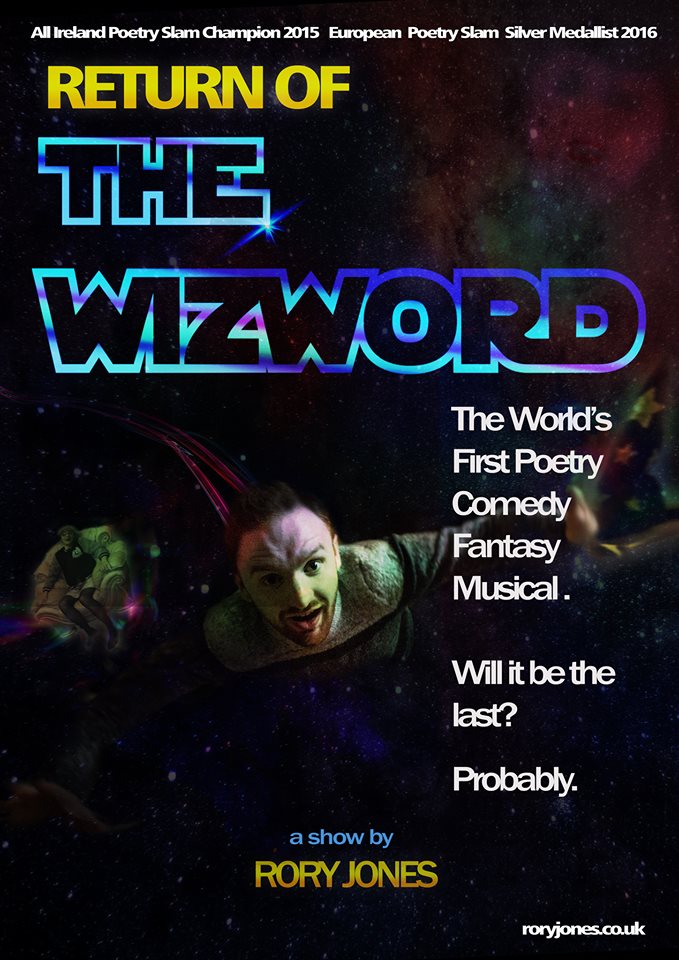 I opted for a subtle, understated design.
Its first outing will be in Enniskillen in early October. I'll furnish you with the full deets (that's details, grandad), when the organisers announce the full programme.
Edinburgh Recommendations
Two blogs in one? You bet sir. We made a brief visit to the Edinburgh Fringe last week and I have hot tips. Every act we saw was good, some were great. The two established TV comedians we'd pre-booked were probably the least impressive, make of that what you will.  Below are my favourites, most of which are free / pay what you want:
Galpals: Because at the End of the Day, That's What We'd Like to be Known as–  Southsider (Venue 148) – 16:30
Siân and Zoë's Sugar Coma Fever Nightmare -Just the Tonic at The Community Project (Venue 27) – 18:45
Rob Auton: The Hair Show – Just the Tonic at The Caves (Venue 88) – 15:55
Gein's Family Giftshop: Volume 3 – Pleasance Courtyard (Venue 33) – 22:20
#Jollyboat: Pirates of the Karaoke – Liquid Room Annexe/Warehouse (Venue 276) – 14:30
They are all a very good time.
That's it for now. Incidentally, if you have Twitter or Instagram and would like to make our worlds that bit more uncomfortably close, the circular icons at the bottom of the page have that power.
Talk very soon,
R